BLS CPR & AED Classes in Colorado Springs
$64.95
American Heart Association AHA BLS CPR and AED Classes
We provide CPR classes in Colorado Springs, CO, accredited by the American Heart Association (AHA). These courses equip you for Basic Life Saving (BLS) Healthcare Provider CPR and AED use.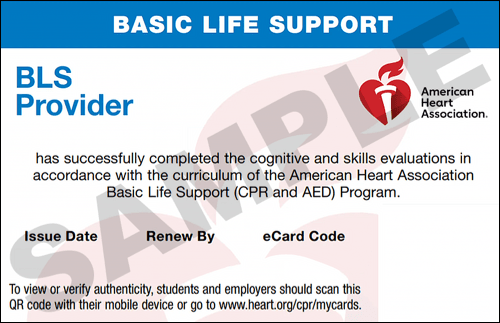 Colorado Springs CPR Classes
We provide CPR classes in Colorado Springs, CO, accredited by the American Heart Association (AHA). These courses equip you for Basic Life Saving (BLS) Healthcare Provider CPR and AED use.
No matter your profession, age, or current medical training, we want to see EVERY person equipped with this life-giving education. This course provides initial certification or recertification for —
Giving Basic Life Support (BLS) for all ages
Performing the seven steps of CPR
Using an AED machine
CPR Certification Colorado Springs provide the highest level of individual CPR training at a reasonable price because we keep our group sizes smaller and offer scheduled times multiple times throughout the week. We can't wait to help you gain this life-giving skill!
Our CPR Training Includes
Same Day CPR + First Aid Cards
Hands on Chest Compression Training
Rescue Breath Training
AED Usage for Infant, Child, and Adults
Friendly and Relaxed Environment
Professional Instructors
CPR Certification Colorado Springs Locations
Colorado Springs's Best CPR Classes
Know CPR. Make a difference. Save a life.
When you are equipped with CPR training, you obtain the power to respond well in an emergency. If more people like you were trained in CPR methods for adults, children, and infants, thousands of lives could be saved every year.
If you are unsure whether you will feel brave enough to perform CPR in an emergency, remember that you CAN make a difference! You never know when you will need this vital training. People often find themselves helping someone they know and love because —
Four out of five cardiac arrest events happen in the home.
Unintentional injury is the third leading cause of death in the USA.
Many victims of heart disease appear healthy and robust.
Our authorized CPR trainers help you learn these methods so you can boldly use your BLS, CPR, and AED machine knowledge. We equip people like you every day with a simple same-day certification experience.
What is CPR?
Cardiopulmonary resuscitation is a system that links rescue breathing and surface chest compressions to restore and maintain a heartbeat until emergency professionals arrive.
What to Expect in Your CPR BLS Classes
Whether you need to earn CPR certification for your career or simply want to know this life-saving knowledge, we can help you obtain the best certification to keep you confident to help save a life.
From using an AED machine to the ABCs of CPR, our training covers every aspect needed and is certified to meet work and OSHA requirements. Learning with the finest American Heart Association CPR classes will grant you the confidence to use your certification!
All employers and organizations accept CPR Certification Colorado Springs, including —
Nurses, RNs, and CNAs
Personal Training Facilities and Gyms
Daycare and Other Caretakers
Nursing schools and All Other College Programs
Nonprofits like the Boy and Girl Scouts of America
Firefighting and Other Municipalities
Schools (Private and Public)
Hospitality Industry
Construction Sites
Hospitals
EMT/Paramedic Companies
Home Health Aides
Why Train With Us?
Experience. Our trainers have taught over 30,000 students across the USA.
Confidence. You can confidently use your skills in any situation that requires life-sustaining intervention.
Simplicity. Enjoy more one-on-one training due to our group sizes, hands-on style, and streamlined class system.
Convenience. Take your AHA-certified BLS CPR card with you on the same day.
Certification. Receive the most widely recognized, accredited, and employer-accepted BLS Certification.
FAQS
When will my CPR certification expire?
You will need to retake your CPR classes every two years to keep up your knowledge and skill to act quickly in an emergency.
When can I take my CPR certification course?
We offer CPR class opportunities weekly, which enables you to calendar your class based on your availability.
How long do the CPR classes last?
Class times are approximately 3 hrs.