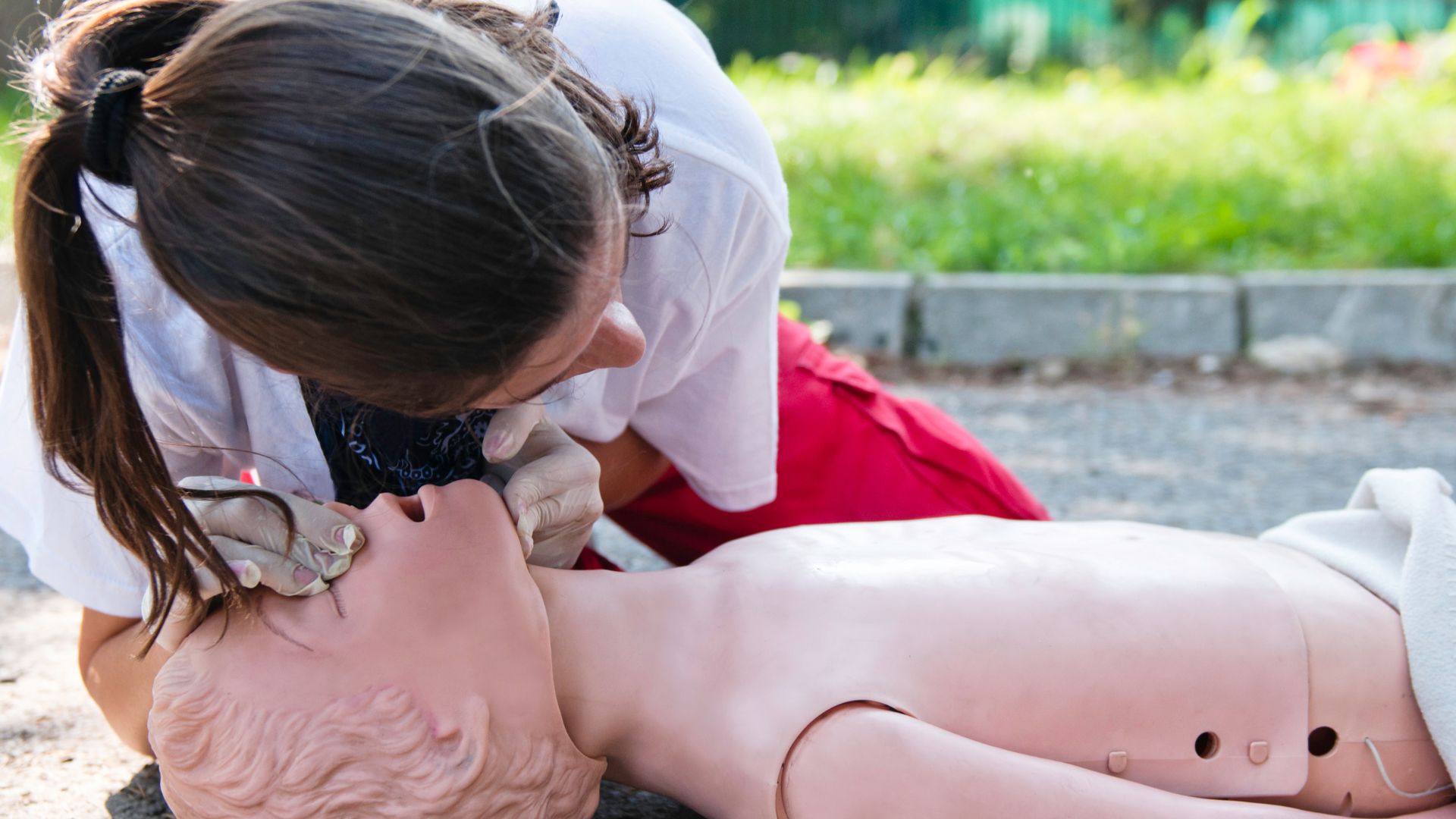 Sudden cardiac arrest can happen to anyone, even young and healthy students. Despite all the knowledge we have on SCA, there aren't many clinical practices that can predict it.
On a more positive note, there are ways to address the situations promptly and save a student's life. For example, this PubMed study tracked SCA cases in high schools from 2009-2011. It concluded that CPR-related practices like AED application could increase the chances of survival to hospital discharge. This is one of many reasons CPR implementation in education is crucial for building healthy and responsible individuals and societies.
Almost all US states have specific CPR laws and regulations for public schools and other educational institutions. Some even implemented these legislations and procedures in the 90s, while others have implemented them in the past few years.
In this article, we'll glance at the methodology of implementing CPR know-how into the regular curriculums and the essentiality of CPR training for students.
Life-Saving Skills in Education: A Universally Accepted Rule
Each country and government has devised and implemented school safety programs to ensure the youth is safe from emergencies like fires, smoke, floods, earthquakes, and even sudden cardiac arrest. Across the world, numerous countries have implemented life-saving skills in education, making them an integral part of the graduation criteria.
For example, in the United Kingdom, the CPR curriculum is mandatory for all secondary and school students and is recommended for students over 12. Every state authority in Scotland has adopted and implemented the mandatory secondary school CPR curriculum, making CPR training a prerequisite for graduation.
Additionally, other countries, such as Denmark, France, Italy, Belgium, and Portugal, follow the example of the United Kingdom. This trend is rapidly gaining momentum as sudden cardiac arrest is responsible for more than 20% of deaths in Western societies. Implementing mandatory CPR training for students is key to empowering the next generation while building a responsible society.
States That Mandate CPR Education in Schools
In the US, 43 of 50 states have implemented mandatory CPR education in schools. Following are the states which currently have CPR legislation for high schools and other public schools:
Nonetheless, CPR implementation in schools isn't mandatory in each of these states. An example is the state of Indiana, where schools can opt out of training.
CPR Implementation in Education: The Way It Works
Across the United States, each state has its specific requirements when it comes to CPR for students. It's essential to know that the student CPR programs are issued and revised by credible healthcare institutions such as the American Red Cross and the American Heart Association:
American Red Cross Programs
For example, the American Red Cross has specially designed CPR programs for students and public schools. Now, you may ask yourself how these programs work and who is authorized to adopt and implement them, and the answer to your question is quite simple! The American Red Cross demands an "authorized provider" or a licensed training center to provide the students with elementary CPR knowledge, such as the various emergency types, the CPR steps, and much more.
As a part of these authorized agreements, the public school confirms that the American Red Cross will also train some of their personnel (administration and teachers) in the CPR procedure. Furthermore, as a part of the campaigns for CPR awareness in schools, the American Red Cross can also provide certification classes in hygiene, preparedness, swimming, and first aid to anybody interested.
American Heart Association Programs
On the other hand, when a particular public school collaborates with the American Heart Association, the association provides learning materials for students between 6th and 12th grade in all public schools subject to the agreement. The students can even download their materials online and start learning through the internet.
It gets even more interesting because AHA's CPR school programs equip students and teachers with CPR training kits, which they can use to train their skills and master the various CPR techniques. The process is fun and proactive, and the students can learn the CPR procedure in a single class. Lastly, all the training must be held by an AHA or American Red Cross-certified instructor, and the students must demonstrate their skills in front of them.
Empowering the Youth Through Laws and Legislation
The only way to implement a mandatory CPR certification for students is to adopt laws and legislation on a state level. Nonetheless, each state has adopted and implemented different legislation with varying scopes, depending on the number of participants, the number of certified personnel, and the year when the students will learn the CPR techniques.
Let's look at some of the more prominent laws in different states and how they articulate these techniques and make them a coherent part of the elementary education process:
California's Bill No. 1719 – According to this bill adopted in 2016, the state of California requires the State Department of Education to support the public schools in implementing CPR programs for students between 9th and 12th grade.
Illinois' HB3724 – According to this bill adopted on July 1, 2014, the state requires that all secondary schools adopt a CPR curriculum into their existing programs and the public schools' students to demonstrate their skills in front of AHA or American Red Cross-certified CPR instructors.
Florida's CS/HB157 – According to this bill adopted in the school year 2020/21, Florida's school districts must provide first-aid and CPR classes to all 9th and 11th-grade students.
There are many similar examples with other states imposing their CPR laws and legislation. Generally, two or more teachers or administration personnel should be CPR-certified to provide students with training and maintain the school's safety and security.
However, these standards can vary from state to state. For instance, Colorado requires only one staff member to be CPR-certified, while California allows public schools to hire a local CPR training provider.
The Student CPR Training and Student Ambassadors
Even though most American public schools—according to the American Red Cross and AHA's recommendations—provide hands-only CPR to students, they also teach basic AED skills. The main reason for this is that hands-only CPR builds confidence and is more approachable by unskilled bystanders, especially the youth.
In the past few years, AHA and ARC have stressed the significance of age matching between witnesses of out-of-hospital cardiac arrests and the CPR-trained population. That's why there are student CPR ambassadors meant to provide CPR instructions to individuals and organizations in their surroundings and thus improve overall CPR awareness and increase the bystanders' willingness to perform the procedure.
CRR For Students: The Extraordinary Benefits
There are numerous benefits to implementing CPR into school curriculums and making the procedure mandatory for graduation. The following is an illustration of the CPR impact on youth demographics and the major benefits for the students:
Students can now save lives
Students can now transfer their knowledge to adults and make a change in society
Students will gain more confidence and willingness to save lives
They'll quickly recognize the symptoms of a sudden cardiac arrest and react in due time
They'll understand the correct usage of automated external defibrillation
They'll be able to help a choking or drowning victim
They'll be able to help a victim of burns or electrocution
They'll be able to save lives in the classroom
Students can now help society manage natural disasters
Some students will meet job requirements as policemen, fire department, athletic trainers, professional live-savers, lifeguards, ambulance crews, and airline employees.
Final Remarks
The CPR impact on the youth is huge. From emergency preparedness and saving cardiac arrest victims' lives to meeting job requirements and helping society manage natural disasters—every student and society will benefit from the CPR curriculum.
That's why the American Heart Association and the American Red Cross constantly revise their guidelines and take a proactive role in the CPR education of the youth. On top of that, almost every American state has laws and regulations concerning mandatory CPR in public high schools, making way for a big and positive change in society!